Article
The Winding Banks Of Erne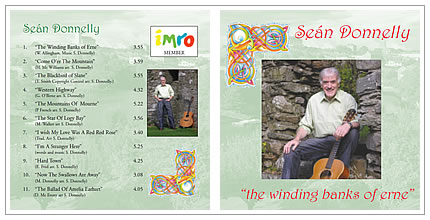 1. The Winding Banks of Erne
The words by William Allingham (1824-89) are resonant of Goldsmith's the Deserted Village in the manner in which a lost place is reconstructed in the mind and this, perhaps, accounts for its longevity despite being wed to a dismal waltz tune and strutted out by
too many three-piece bands for too many years. Sean Donnelly has here
added a far better melody of his own.
2. Come o'er the Mountain
Small books of popular songs called "Chap Books", with their classical references, were fond of such rustic courting songs as this, and country singers, whether in Ireland or in Britain, were fond of singing them. And why not, with their harmless humour and their
innocence? Sean learned this version from the celebrated Co. Antrim
singer Len Graham.
3. The Blackbird of Slane
Francis Ledwidge (1867-1917) wrote these words: He shall not hear the bittern cry / In the wild sky where he is lain / Nor voices of the sweeter birds / Above the wailing of the rain for Thomas MacDonagh, executed for his part in the Easter Rising of 1916. A year later Ledwidge himself was dead -"blown to bits" according to the army chaplain's report- during the third battle of Ypres. He had joined the Inniskilling Fusiliers as one of those Irish patriots who had hoped that by doing so Britain would grant Home Rule to Ireland after the war. Sean Donnelly's Tyrone-born grandfather was another: he was killed at Mons at the age of 27. Now Ledwidge's words for MacDonagh are cut into his own stone, which marks the spot where Ledwidge died. This moving song is about Ledwidge rather than by him, its title alluding to his love of birds and his many naturalist poems. Brendan
Monaghan's elegiac whistle and pipes accompaniment lends great poignancy to Sean's performance.
4. Western Highway
Co. Clare man Gerry O'Beirne's truck-driver's song is a lyrical paean to life on the road, with all its melancholies and regrets. This multi-faceted singer-songwriter is well enough travelled to have picked up a range of idioms and he is adept at writing such a song and
making it sound authentic while avoiding the maudlin sentimentality which mars so many of its genre. Sean Donnelly brings it back home to Ireland with his understated delivery.
5. The Mountains of Mourne
If Percy French (1854-1920) had never written another song this one would have ensured his immortality. Happily, he wrote many others which have become part of every Irish singer's consciousness, among them Cutting the Corn in Creeslough, Phil the Fluter's Ball, and the exquisite Gortnamona. He came from the Anglo-Irish side of the fence, and much of his material has that "quaint" Irishness so beloved by Hibernophiles. No matter. He brought wit and pathos to his songs, sometimes even in the same stanza, and you can hear this unique blend of humour and longing in this, arguably his most celebrated song. The tune he used is a derivative of Carraig Donn, and if you listen carefully you will hear traces of that old air from Flight of the Wild Geese days of 1691. This is mainstream "folk", but Sean Donnelly has never been shy of performing such material to great acclaim: his versions of Homes of Donegal and Isle of Innisfree on other albums are rightly celebrated. The fact that he lives in Newcastle, Co. Down, at the foot of the
Mountains of Mourne, adds an extra piquancy to this recording.
6. The Star of Logy Bay
Logy Bay is a tiny fishing community just north of St John's in Newfoundland, but that hardly matters, for this is a come-all-ye which might have come from anywhere. It even resembles the English folksong The Bonny Labouring Boy, and the Irish songs Bunclody and The Inniskilling Dragoon, with their themes of love thwarted by obstructive parents. The sympathetic keyboard counterpoint is by Gerard Dornan, the hard-working producer and engineer on this album.
7. I Wish my Love was a Red Red Rose
This enchanting song which, with its garden, flowers and cuckoo motifs, is really more English than Irish, despite the fact that there are floating verses from several Irish songs scattered among the lyrics and the tune, among them The Jug of Punch and Mary of Dungloe. Sean heard the song from Mrs Sarah Makem from Co. Armagh, and again from the late David Hammond who knew a thing or two about folksongs. The song has already been recorded by Sean on his early album One Day
we Saw the Sun.
8. I'm A Stranger Here
The poet Patrick Kavanagh once wrote When Drake was winning seas for England / We sailed in puddles of the past… And here, in his own song, Sean Donnelly suggests that looking backwards too often is not such a good idea, and that revisiting childhood scenes is a risky enterprise. He learned this salutary lesson when he recently visited the small
Co. Tyrone village where he grew up, only to find that he knew nobody there -and nobody knew him! Adding her own beautiful and too-brief harmony is Siobhan Skates.
9. Hard Town
Eamon Friel, who wrote this song, says that it is not about his native Derry. However, it is redolent of modern Derry, a neo-realism word picture which is captured in Friel's own recording of the song, sung in his very Derry voice. Friel sees it as a song with wider
references, and so it is; but it takes an outsider's voice to lift it from its parochial origins and give it a more universal relevance. Eamon Friel, an admirer of Sean Donnelly's interpretations of his songs, should be pleased with this! Once again, Siobhan Skates adds a telling and affecting harmony and Gerard Dornan's piano is highly expressive.
10. Now the Swallows are Away
Summer is ending, winter is approaching, and Martin Donnelly (no relative of Sean's) captures this metamorphosis in the countryside in his melancholic song. Martin, from Co. Antrim, performs it on his own album Earthbound.
11. The Ballad of Amelia Earhart
Red River Dave McEnery (1914-2002) was a contemporary American ballad writer who found his inspiration in the lurid headlines of his time. The Ballad of Patty Hearst and The California Hippy Murders are two of his eye-catching titles. His Amelia Earhart song records the disappearance of the famous aviatrix near Honolulu on 2 July 1937.
There is a monument to her where she landed accidentally in a field near Derry City on 21 May 1932 while attempting to fly to Paris from Newfoundland. Sean sings this for his niece Claire.
JOHN PADDY BROWNE
————————————————————————————————————————————————————————–
samples available
1. The Winding Banks of Erne
2. Come Oe'r The Mountain
3. The Blackbird of Slane
4. Western Highway
5. The Mountains Of Mourne
6. The Star Of Logy Bay
7. I Wish My Love Was A Red Red Rose
8. I'm A Stranger Here
9. Hard Town
10. Now The Swallows Are Away
11. The Ballad of Amelia Earhart
£12.00
this includes postage and packaging
List Of All Albums –
click on album below to view details

currently viewing:

The Winding Banks Of Erne