Article
Cut A Long Story Short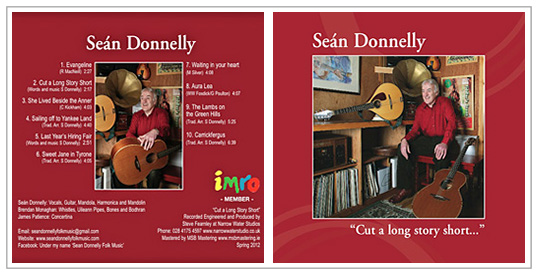 1. Evangeline
Words and Music by Robbie MacNeill
Nova Scotian Robbie MacNeill wrote this lovely song sometime in the 1970s when he was feeling homesick for his homeland "The Land of Evangeline." I learned this song from the singing of the late Stan Rogers of Canada.
2. Cut a Long Story Short
Words and Music Seán Donnelly
I got the idea for this song from a good friend of mine who is forever telling me the long stories! He is fond of peppering his conversation with the phrase 'to cut a long story short' and then proceeding to 'cut' the story even longer!
3. She Lived Beside the Anner
Words and Music by Charles J. Kickham
My late father Michael sang this emigration song his whole life. Some years following his death in 1983 I remember my mother Catherine, who has since also passed away telling me that this was by far his favourite song. I am including "She Lived Beside the Anner" in this collection in his memory.
4. Sailing off to Yankee Land
Trad. Arr. Seán Donnelly
It is rare to find an emigration song with such a jaunty air! However there is the inevitable undercurrent of sadness that songs relating to this tragic time in Ireland's history bring. With thanks to Noel Devlin for bringing this song to my attention.
5. Last Year's Hiring Fair
Words and Music Seán Donnelly
In times past the hiring fairs were for many the only opportunity of employment. For the most part they were quite sad places as the poor unfortunates who were "hired out" had to work long hours for very little pay and were treated as little more than slaves.
On a somewhat lighter note the hiring fairs were also places for young lovers to meet.
I got the idea for this song from my friend the well known broadcaster, musician and author Gerry Anderson with whom I have spent many enjoyable evenings whilst touring with our show "Tall Tales and Short Songs"
6. Sweet Jane In Tyrone
Trad. Arr. Seán Donnelly
I adapted this song from an old Street Ballad and drawing heavily on artistic licence, wrote a wee air of my own to fit it! If you ask me the whole thing is a fairytale, I mean who ever heard of a Tyrone man having to go to Co. Down for a wife? Ludicrous!
7. Waiting in your heart
Words and Music Mike Silver
Mike Silver is a fine singer / songwriter and this song is a great example of his considerable talent.
8. Aura Lea
Words WW Fosdick Music: George R. Poulton
This American Civil War song ( also known as Aura Lee ) was first published in 1861.
9. The Lambs on the Green Hills
Trad. Arr. Seán Donnelly
One of the very many old and well loved Irish songs brought to the forefront by Colm O'Lochlainn. Colm got this version from a Mrs Reddin from Dublin in 1915. There is also a popular Scottish version of this song called ' I Once Loved a Lass'.
10. Carrickfergus
Trad. Arr. Seán Donnelly
I found some older and perhaps forgotten words of this song in Cathal McConnell's excellent book 'I Have Travelled This Country'. Cathal writes 'I got these verses from Arthur Kearney of Tyrone in 1965'. Finding this version prompted me to take a fresh look at this beautiful if hackneyed old song.
Seán Donnelly: Vocals, Guitar, Mandola, Harmonica and Mandolin
Brendan Monaghan: Whistles, Uileann Pipes, Bones and Bodhran
James Patience: Concertina
————————————————————————————————————————————————————————–
samples available
1. Evangeline
2. Cut a Long Story Short
3. She Lived Beside the Anner
4. Sailing off to Yankee Land
5. Last Year's Hiring Fair
6. Sweet Jane in Tyrone
7. Waiting in your heart
8. Aura Lea
9. The Lambs on the Green Hills
10. Carrickfergus
£12.00
this includes postage and packaging
List Of All Albums –
click on album below to view details

currently viewing:

Cut A Long Story Short