Featured
The Winding Banks Of Erne – Review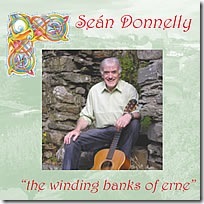 Review
By John O'Regan
Sean Donnelly knows a good song when he hears one. He knows how to pick them, choose them, interpret them, write them and integrate them into his vast repertoire. Anyone familiar with his recorded work in Ireland and abroad will know this fact and verify it. However anyone approaching a Sean Donnelly recording for the first time, the welcome mat is out and a trusted ally is waiting in the wings for your discovery.
A native of Tyrone Sean Donnelly emigrated first to Belfast and then to Newcastle in Co. Down where he has been resident for the past two decades or more. He has the Co. Down passport to prove it!.
"The Winding Banks of Erne" this latest recording from Sean Donnelly is a typical combination of assured interpretation and carefully chosen material. Again the traditional wells of Ulster song are consulted and acknowledged with "I Wish my Love Was a Red Red Rose" learned from no less than Mrs. Sarah Makem mother of the legendary Tommy Makem (RIP) it is appropriate to mention that the late David Hammond also had a version of this song. Sean's revisiting of it comes two decades after he first recorded it on his debut album "One Day We Saw the Sun" issued in 1987. The Winding Banks of Erne itself is a William Allinghams poem set to music by Sean "The Star of Logy Bay" a Newfoundland song which sounds intrinsically Irish has been recorded by Sliabh Notes, Corrib Folk and is remembered particularlyfrom Dennis Ryan of Ryan's Fancy. "Come o'er the Mountain" comes from the singing of Len Graham "Johnny Lovely Johnny" is another from the Ulster song cycle awaiting reinvention with its Tyrone connections keeping the home fires burning as it were.
Interestingly enough Sean's sole original composition "I'm A stranger Here" recalls his return to his home village "where I was raised as a child only to discover that I knew no one there now and no one knew me!". "The Mountains of Mourne" is recorded in response to requests from The Gerry Anderson Show on BBC Radio Ulster. Sean also adds some marvellously understated readings of songs by his Northern neighbours Co. Antrim's Martin Donnelly (no relation!) "Now the Swallows are Away" Eamon Friel's "Hard Town" and Gerry O'Beirne" truck driving anthem "Western Highway".
The most surprising inclusion of all is "The Ballad of Amelia Erhard" a crossover from the folk/country songbook. This is a story song in the ballad tradition which tells the true story of the lost aviation pioneer Amelia Erhard and adds a fittingly diverse conclusion to Sean Donnelly's latest recorded odyssey.
Sean handles the songs with his customary care and ease. The backings are suitably restrained and the whole collection breathes with both sincerity and poise.
If you are familiar with Sean Donnelly's work to date, this note is a reminder of the gems in store, if you are encountering Sean Donnelly for the first time as I did in 1987, you will discover one of Ireland's best kept secrets. "The Winding Banks of Erne" adds another excellent page to Sean Donnelly's recorded catalogue
——————-
John O'Regan
December 2009